Our President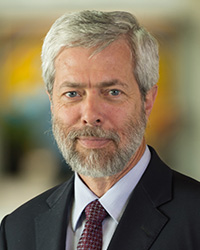 Gordon T. Smith is President and Professor of Systematic and Spiritual Theology at Ambrose University.  He has served in this capacity since 2012. Additionally, he is an ordained minister with The Christian and Missionary Alliance.  
He is the author of a number of publications, including:
Welcome Holy Spirit: A Theological and Experiential Introduction (IVPress, 2021)
Wisdom from Babylon: Leadership for the Church in a Secular Age (IVPress, 2020).
Evangelical, Sacramental and Pentecostal: Why The Church Needs to be all Three (IVPress, 2017).
Institutional Intelligence: The Elements of an Effective Organization (IVP, 2017)
Gordon is married to Joella and together they have two grown sons.
President's Cabinet
Provost & Senior Vice President, Academic
Pam Nordstrom
Vice President, Student Life
Monique Verhoef
Executive Vice President, Operations
Myles Nelson
Vice President, Finance
Steve Larkin
Our Board of Governors
Debi Mills (Chair)
Businessperson, Stony Plain, AB
Calvin Buss (Vice Chair)
Businessperson, Vancouver, BC
Larry Koop (Secretary)
Businessperson, Sundre, AB
Rev. Ian Fitzpatrick
National Director, Church of the Nazarene in Canada, Toronto, ON
Leonard Lam
Lead Pastor, Calgary, AB
Ilse Li
Lay Leader, Edmonton Chinese Alliance Church, Edmonton, AB
Janet Kirby
Businesswoman, Kelowna, BC
Howard Louie 
Businessman, Vancouver, BC
Teresa Davidson
Healthcare Executive, Calgary, AB
Darren Herbold
President, The Christian & Missionary Alliance (C&MA), Canada
Bernie Van De Walle
District Superintendent, Canadian Midwest District of the Christian & Missionary Alliance
Rev. Scott Dickie
Lead Pastor, Peace Portal Alliance Church, Surrey, BC
Dale Meister
Businessperson, Calgary, AB
Srimal Ranasinghe
Urban Planning Consultant, Calgary, AB
Alexandria Randell
Businesswoman, Calgary, AB
The composition of the Ambrose Board of Governors is defined in the Ambrose bylaws:
The president of The Christian and Missionary Alliance in Canada (ex officio)
The national director of the Church of the Nazarene Canada (ex officio)
One member appointed by the National Board of the Church of the Nazarene Canada
Six members appointed by the Board of Directors of The Christian and Missionary Alliance in Canada
One Christian and Missionary Alliance District Superintendent
Up to five members-at-large appointed by the Board
Governors are typically appointed to a four-year term and may serve a maximum of two consecutive terms.